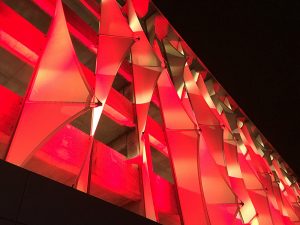 On its own, tensioned membrane architecture can have an impressive visual impact and can help you achieve significant aesthetic and functional goals.  Incorporating lighting into the design takes this type of unique architecture to the next level by transforming the structure's effect after the sun goes down – creating the potential for multiple iconic identities instead of just one.
From subtle to artistic, LED lighting can be integrated into tensioned membrane architecture in a variety of ways to create a night identity that reflects the values of your clients' company, investors, and/or surrounding community.
For Artistic Skylights
Using tensioned membrane structures as skylights in your office building, medical facility, or hotel makes it an unforgettable centerpiece of the property's design.  At the Terasaki Research Institute, our designers played with both daylight and LED lighting to create stunning and truly unique tensioned membrane structure skylights.
For Iconic Outdoor Seating Areas
Whether you're operating a restaurant, resort, or other type of commercial property, highly functional outdoor seating areas are often some of the most valuable square footage on the entire property.  At the Minx Restaurant & Lounge (which is now the FuJi Buffet & Grill), multicolored up-lighting transformed the three kite-shaped tensioned membrane sails into beautiful canvases – drawing attention to the property from both loyal customers and passersby.
For Functional Retail Centers
Using a tensioned membrane structure at malls and retail centers can help to increase foot traffic, reduce energy costs, and create new advertising opportunities.  At the Westfield Galleria in Roseville, California, two large tensioned membrane canopies were designed for the mall's playground area.  The structures' night lighting served the dual purpose of maintaining the area's usability past sunset and transforming the structures into aesthetically appealing sculptures at night.
For Unforgettable Interiors
From shading to acoustics and suspended ceilings to branding opportunities – the benefits of interior applications for tensioned membranes are endless.  At the Sheraton Kona Resort's "Rays on the Bay Restaurant" in Kailua-Kona, Hawaii, the tensioned membrane sails were designed to create a more intimate atmosphere, add style, and incorporate the surrounding environment.  The LED night lighting brought the colors of the sea and sky overhead even as darkness masked the horizon.
For Urban Centers
Adding to or completely redefining a night city scene is an essential consideration for every architect, and lighting is a powerful way to achieve your vision.  At the Buffalo Niagara Medical Campus, the twisted panels of the tensile facade – playfully nicknamed "The Dancing Kids" – softens what otherwise would have been an industrial-looking building during the daytime hours.  At night, the LED lighting system can be programmed or synchronized for customized color displays – an exceptional addition to the neighborhood's character.
To explore more projects that have used lighting as an opportunity to maximize design potential, view these portfolio highlights:
Is a Tensioned Membrane Structure Right for Your Next Project?
In the Tension Structures Division of Eide Industries, we specialize in design, engineering, manufacturing, and installation of structurally complex and creatively challenging commercial, government, and prototype design projects.  We provide expertise and support for architects, landscape designers, general contractors, and property owners to develop their custom tensile membrane project ideas and construct iconic structures.
Explore the options for your next project.  Contact one of our experts today by calling 800-422-6827.