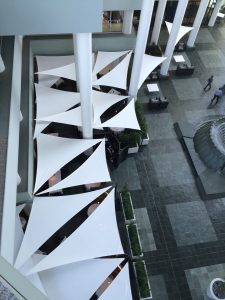 For many building projects, architects are looking for ways to produce unique designs while remaining within the confines of the project's budget.  Tensile architecture has created exciting new opportunities for using tensile membrane roof structures to create extraordinary configurations while spanning larger distances and allowing for natural daylight into the space below.
If you're trying to visualize an exceptional yet functional design for your next building project, think beyond manipulating the traditional architectural elements – consider incorporating a signature and iconic tensile membrane roof structure.
Eye-Catching Appeal
From the flying buttresses of the Gothic Period to the exciting irregular shaped envelopes of today, the most celebrated examples of architecture in history have often stepped away from rectilinear forms (aka straight lines) to do something truly special.  Using a variety of fabric options such as PTFE-coated fiberglass or PVC membrane, tensile membrane roof structures add visual drama for a similar impact.  With tensioned fabric technology, you can incorporate anticlastic curvatures, air-supported domes, or geometric shapes to provide your clients with the unforgettable designs they desire.
Enormous Spanning Capability
Especially valuable for athletic and entertainment facilities, tensile membrane roof structures require less support to span greater distances than roofs that are built with traditional materials.  The result is a durable roof structure with valuable column-free space underneath.  When looking to cover playing fields, swimming pools, and amphitheaters, this open space is undeniably essential.
Naturally Lit Designs
When a goal for your project is to create a lighter feel within the space, a tensile membrane roof structures can help to create spaces that are as functional as indoor spaces but as enjoyable as outdoor ones.  The membrane allows natural, diffused light to pass through, lowering the need for artificial light and maximizing the indoor/outdoor feel. While conversely, the translucent properties of the membrane allow for artificial lighting to create an ambient exterior luminescence at nighttime.
Is a Tensile Membrane Roof Structure Right for Your Next Project?
In the Tension Structures Division of Eide Industries, we specialize in design, engineering, manufacturing, and installation of structurally complex and creatively challenging commercial, government, and prototype design projects.  We provide expertise and support for architects, landscape designers, general contractors, and property owners to develop their custom tensile membrane project ideas and construct iconic structures.
Explore the options for your next project.  Contact one of our experts today by calling 800-422-6827.