As you approach the design phase of your tension structure project, there are so many options to consider.  What shape would best suit your goals?   Which membrane has the performance qualities you need?  And, of course, what type of foundation is necessary to ensure the tension structure is safe, strong, and able to withstand the load requirements of your area?
In this post, we'll explore an overview of the different types of foundations that will be considered during the design and engineering stages to ensure your tension structure maintains a solid footing.
Shallow Foundations for Tension Structure Projects
While structural safety is always the absolute top priority for every engineering project, there are many factors that contribute to decisions about the project's foundation.  For some projects, using deep drilled or driven foundations isn't possible and/or necessary, and shallow foundation options will be considered.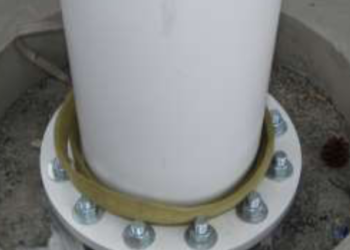 Spread Footing – Spread footings are a foundation option that helps to address project sites that must navigate issues such as underground utilities.  This technique has the advantage of being shallower than drilled or driven piles, for example.  Instead of depth, they rely on more concrete to achieve a sturdy hold.  If auger equipment can't fit onsite to drill, spread footings can be dug by hand.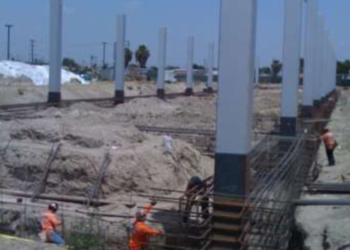 Grade Beams – Also ideal when drilling depths are limited by underground utilities, grade beams are steel-reinforced concrete foundations that run horizontally and connect multiple columns together.  The result is an underground network of support designed to resist torque and moment forces caused by the tension structure design.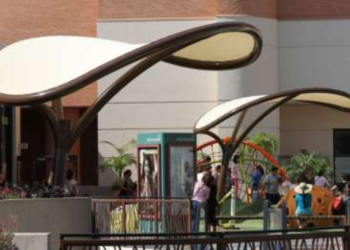 Drilling into Existing Deck – For projects with an existing elevated deck or concrete slab, it's common to either drill and epoxy into the concrete or drill through it and use a clamp plate.  An X-ray of the deck will show any utility or cable lines that need to be navigated.  It's important to note that the Engineer of Record will need to review and approve the reaction loads prior to breaking ground.
Deep Foundations for Tension Structure Projects
When the load requirements exceed what a shallow foundation can carry, deep foundations are designed to transfer the load forces and best support the structure.  When choosing the type of deep foundation that's best suited for your tension structure project, we'll evaluate a number of factors, including (but not limited to) load requirements, soil conditions, and site access.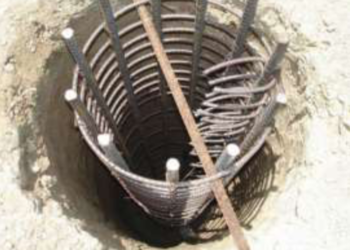 Drilled Piles – Also known as caissons, drilled shafts, or drilled piers, drilled piles can be installed in a wide range of soil and/or rock conditions.  They're very efficient for columns with moment connections, as much of the overturning forces will be transferred into the soil.  Based on the site-specific soil conditions from the geo-tech report, the engineering team will determine the minimal diameter to accommodate the base plate and the final depth requirement.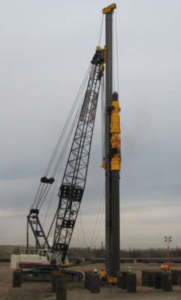 Driven Piles – Using prefabricated structural piles, driven piles are installed using a pile driver or impact hammer.  Typically, the piles are manufactured from steel tubing or steel enforced concrete.  One of the benefits of this type of foundation is that multiple piles can be connected with a pile cap, and multiple pile caps can be tied together using grade beams – creating an even larger foundation to distribute loads and maintain consistent elevations.
To learn more about the materials and techniques used for tension structure projects, visit the "Materials Category" of our blog.
Explore More Options and Solutions for Your Tension Structures Project 
In the Tension Structures Division of Eide Industries, we specialize in design, engineering, manufacturing, and installation of structurally complex and creatively challenging commercial, government, and prototype design projects.  We provide expertise and support for architects, landscape designers, general contractors, and property owners to develop their custom tensile membrane project ideas and construct iconic structures.
Explore the options for your next project.  Contact one of our experts today by calling 800-422-6827.