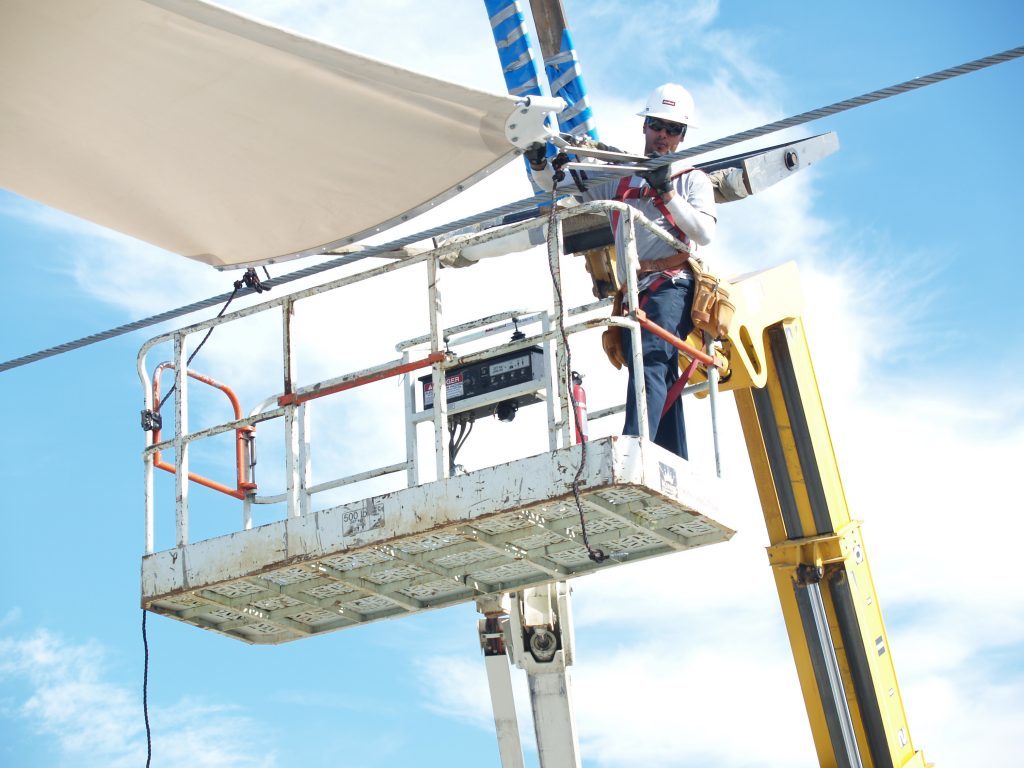 Tensile fabric structures have become an increasingly versatile and dependable solution for architects and designers looking to overcome challenges associated with design flexibility, energy efficiency, environmentally conscious construction, heat and weather protection, and budget-friendly aesthetic upgrades.  However, don't let the fabric elements of this style of architecture fool you into thinking that you don't need to prioritize safety when incorporating tensile fabric structures into your project.
1. Design for Safety
While tensile fabric structures are significantly lighter weight than traditional building techniques, they rely on permanent and semi-permanent foundations and frame materials, and they must adhere to the same safety standards as any other construction project.  Realistically, the use of less-common materials, such as PTFE or PVC Membranes, makes it even more important to have specialized design and engineering expertise from the very start.
Don't forget that a beautiful design doesn't mean that it's realistic one.  Every design needs to have its feasibility, efficiency, and safety assessed by a qualified engineer.
2. Build to Code
If you've ever heard of a tensile fabric structure failing (and it has happened), it's almost always because it wasn't built to code in the first place.  Building to code begins with having certified engineered drawings and detailed shop drawings.  In addition to their important role in the permitting, building, and installation processes, these plans signify that the structural design has been assessed and it meets or exceeds relevant building code criteria, including wind or snow loads.
Remember local codes aren't only a legally required benchmark; they're also an important way to gauge the minimum standards for that particular region. 
3. Choose the Right Fabric
There's no one-size-fits-all solution when it comes to choosing the best-suited fabric for your project.  Every fabric option has its strengths and weaknesses, and different fabrics have different requirements when it comes to frame attachments.  It's essential to align the project goals with the realities of the fabric's performance.  So, fabric selection should be a consideration from the start of the design process.
Keep in mind that those who specialize in fabric architecture have a wealth of knowledge that other architectural designers, structural engineers, and contractors simply won't have.  The best way to know you're making the right choice is to work with an expert.
4. Don't Take Shortcuts
Tight budgets and timelines can make shortcuts look tempting, but cutting corners rarely works out in the long run.  If a proposal or quote seems too good to be true, then it probably is.  Ultimately, there are many shortcuts that could be made – such as rushing through the engineering stages, hiring inexperienced installation teams, or using sub-standard materials – but all of them put your company and, more importantly, the end-user at risk.
Instead of taking shortcuts, choose to work with a full-service design-build contractor. You'll save time and money by keeping the entire project (from design and engineering to manufacturing and installation) under one roof.
5. Hire Experts in Tensile Fabric Structures
In the Tension Structures Division of Eide Industries, we specialize in design, engineering, manufacturing, and installation of structurally complex and creatively challenging commercial, government, and prototype design projects.  We provide expertise and support for architects, landscape designers, general contractors, and property owners to develop their custom tensile fabric structure project ideas and construct iconic structures.
Explore the options for your next project.  Contact one of our experts today by calling 800-422-6827.