Part 3 of 5: In this five-part series, we provide an introduction to the world of tensioned membrane structures, including the history, current applications, engineering concepts, modern materials, and the innovative benefits.  Click here to read additional posts.
---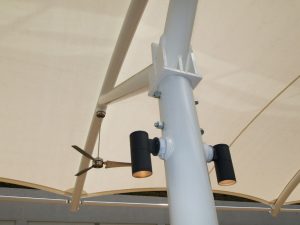 Tensioned membrane structures are anticlastic forms of construction characterized by tensioned flexible membranes that are supported by cables, structural steel framework, and foundations.  With advances in building materials and engineering techniques, these permanent or semi-permanent installations can be designed in a variety of styles, shapes, and sizes to address the unique needs of each project.  In this post, we'll explore the materials that make these versatile structures possible.
Fabric Options for Tensioned Membrane Structures
Adapting to address emerging trends and overcome modern challenges, there are many fabric options for tensioned membrane structures.
PVC Fabrics, including High-Strength PVC,Light-Weight PVC, and PVC Membrane Mesh offer a great balance of price and performance – making it one of the most frequently used materials in tensioned structure industry.
PTFE Fiberglass Membrane is a Teflon™-coated woven fiberglass membrane that is considered one of the most durable materials in the fabric structures industry.
PTFE-Coated Fiberglass Mesh Fabricis often used in vertical building facades and shading applications because it supports greater light transmission and air flow.
ePTFE with Fluoropolymer Coatingis a highly translucent variation of PTFE membrane provided by SEFAR that promotes exceptional natural lighting and is highly resistant to stains or contamination.
TiO2 Coated PTFE Membrane is the closest you can get to a self-cleaning material, which is ideal for urban settings and high-traffic areas where exhaust and pollution are a significant challenge.
HPDE knitted shade cloth is an economical porous option popular at schools and parks.
Each with its own distinct characteristics, this range of technologically advanced fabrics provides you with the options you need for your unique project.  For a deeper look, read our post: PTFE Fiberglass to PVC Membranes: Exploring the Fabrics for Tension Structures.
Frame Options for Tensioned Membrane Structures
When conceptualizing the frame for a tensioned membrane structure, design and engineering teams collaborate for material selection, construction style, and necessary finishes.
Material Selection – The most common materials used in the frame manufacturing are hollow structural steel (HSS), stainless steel, and aluminum tubing.  Each has varying benefits, including cost, strength, and corrosive nature, so experts in tensioned membrane architecture will discuss the best options for your project's unique needs.
Construction Style – There are a multitude of material constructions available to architects and engineers that address a wide array of project needs.  Standard sections may come in round tubing, rectangular sections, or wide flanges.
Trusses use a system of cords that run the length of the truss frame, and they can span greater distances than a single section of frame.
Bending Steel creates curves in standard sections of framework.
Wide Flange & I-Beams are efficient shapes for long spans under sheer and bending stress.
Custom Shapes give architects unlimited possibilities, as nearly any shape can be achieved.  Tapered rectangular beams are just one example of how custom shapes add unique style to the frame design.
Telescopic Columns are high-strength substitutions for round narrowing light posts when heavy loads are involved.  The diminishing diameters of the round beams provide a tapering visual.
Frame Finishes – Although there are many options for frame finishes, the most common are Polyester Powder Coat, Three-Part Epoxy Paint, and Hot-Dip Galvanizing.  Explore the benefits of each in our post: Most Common Frame Finishes for Tensile Fabric Structures.
From the initial concept to the final unveiling, the process for creating a tensioned membrane structures requires well-established expertise at every step along the way.  As a full-service design-build specialty contractor, the team at Tension Structures will guide you through every decision to ensure an iconic yet efficient design.
Are Tensioned Membrane Structures Right for Your Next Project?
In the Tension Structures Division of Eide Industries, we specialize in design, engineering, manufacturing, and installation of structurally complex and creatively challenging commercial, government, and prototype design projects.  We provide expertise and support for architects, landscape designers, general contractors, and property owners to develop their custom tensile membrane project ideas and construct iconic structures.
Explore the options for your next project.  Contact one of our experts today by calling 800-422-6827.