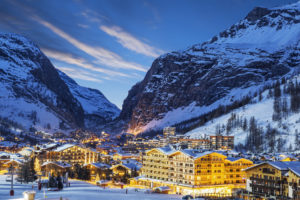 Whether we're discussing new constructions, renovations, or landscape architecture projects, ski resorts and mountain destinations require unique considerations to accommodate both severe climate and the space's nontraditional uses.  When designing for extreme weather conditions, architects are pressured to push the limits on their designs – with a full understanding of all materials' performance capabilities and a strategic perspective on how to maximize functionality.
Tensioned membrane structures (aka tensile fabric structures) use innovative materials and design techniques – including high-strength fabrics and carefully engineered frameworks – to create permanent architectural installations that are durable and cost-effective with endless creative opportunities.  The benefits of tensioned membrane structures range from energy efficiency to reliability to functionality – all of which are essential when designing for extreme weather conditions.
Maximizing the Functionality of Outdoor Spaces at Mountain Resorts
Patrons of ski resorts have a different expectation for interacting with the outdoors than they would if they were staying somewhere that was just cold.  In other words, architects who are designing for extreme weather in Chicago will think less about optimizing outdoor areas for winter use than those who are working on a project in Aspen, CO.
Tensioned membrane structures give architects the ability to create indoor/outdoor spaces that keep visitors connected to the snow and the mountain setting while also keeping them protected from the harsh elements.
Basecamp
A ski resort's basecamp is multi-use, to put it mildly.  The athletes on the property need areas to adjust their equipment and get ready to hit the lifts.  Their less athletic companions look for places where they can stay warm while still feeling included in the experience.  Tensioned membrane structures provide cover to outdoor seating areas – transforming simple benches into basecamp comfort stations.
Summit Amenities
The lift ride to the summit can be a chilling experience, and skiers and riders need a place to regroup (and potentially warm up).  Tensioned membrane structures can provide valuable wind and snow protection at the summit lodge or at strategic rest areas throughout the mountain.
The Village 
A mountain resort's "village" area often hosts year-round outdoor events, and landscape architects or city planners need to consider ways to keep guests comfortable without pushing them indoors.  Tensioned membrane structures are a versatile way to bring people together while protecting them from the elements.
Hotel Features
Every mountainside hotel and resort operator will tell you that competition is fierce in the hospitality industry, and it's essential for them to maximize their amenities.  At Resort Cabanas (our sister company), they use commercial-grade cabanas to create heated lounge areas for your outdoor spa.
For more ideas on how tensioned membrane structures can expand the possibilities when designing for extreme weather, read some of our additional posts:
Designing for Extreme Weather? Explore the Possibilities with Tension Structures.
In the Tension Structures Division of Eide Industries, we specialize in design, engineering, manufacturing, and installation of structurally complex and creatively challenging commercial, government, and prototype design projects.  We provide expertise and support for architects, landscape designers, general contractors, and property owners to develop their custom tensile membrane project ideas and construct iconic structures.
Explore the options for your next project.  Contact one of our experts today by calling 800-422-6827.