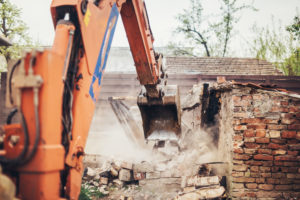 Energy efficiency.  Green initiatives.  Sustainable building.  As architects, builders, designers, and city planners, a significant amount of our mental energy goes into these types of modern-day concerns.  We're under an increasing amount of pressure to implement strategies that lower environmental impact, reduce construction waste, and maximize resources.  Luckily, that's exactly what tensioned fabric architecture can deliver.
Between freestanding designs, tensile facades, and interior applications, tensioned fabric architecture offers an exceptional range of benefits (both functional and aesthetic).  It can play a integral role in preserving older buildings, increasing property values, and transforming existing structures to address modern project goals – while reducing the construction waste that ends up in a landfill.
Here are some important considerations to think about before starting your next project.
Choose to Repurpose Instead of Replace
An estimated 40% of all carbon added to the atmosphere is directly related to the construction and operation of buildings, roads, and other infrastructure.  And, the Preservation Green Lab of the National Trust for Historic Preservation reports that the majority of energy efficient buildings (in a range of climates) will take between 20 and 30 years for their efficient operations to compensate for the initial carbon impacts of construction.
So, if we're looking to reduce construction waste and environmental impact, we must begin by rethinking how we view the infrastructure that's already been built (before deciding to demolish "old" buildings and break ground on new ones).  If there's a structure that's sound but outdated or lacking aesthetic appeal, tensioned fabric architecture provides seemingly endless solutions for adding both style and functionality to aging structures – helping you achieve your project goals while supporting your environmentally friendly practices.
Choose Energy Evolution Instead of Demolition
Say goodbye to the myth that older buildings can't be made energy efficient.  One of the most effective ways to reduce energy usage is to implement architectural shading solutions, such as tensile facades.  This empowers you to incorporate passive cooling techniques, reduce the impact of solar heat gain, and lower contributions to the local urban heat island effect – without demolishing older structures.
Similarly, if water conservation is on your mind, tensioned fabric structures can be designed to capture rainwater and direct it towards a storage tank or into nearby landscapes.
Choose Permanent Instead of Temporary
The more we opt for permanent or semi-permanent shading solutions over temporary ones, the more we'll reduce construction waste contributions.  From event venues opting for tensioned fabric structures over temporary event tents to restaurant patios abandoning ineffective umbrellas – it's time to focus more on longevity and durability, so we have less to throw into the landfill.
Let's Talk About How We Can Help You Reduce Construction Waste, Lower Environmental Impact, and Improve Energy Efficiency
In the Tension Structures Division of Eide Industries, we specialize in design, engineering, manufacturing, and installation of structurally complex and creatively challenging commercial, government, and prototype design projects.  We provide expertise and support for architects, landscape designers, general contractors, and property owners to develop their custom tensile membrane project ideas and construct iconic structures.
Explore the options for your next project.  Contact one of our experts today by calling 800-422-6827.