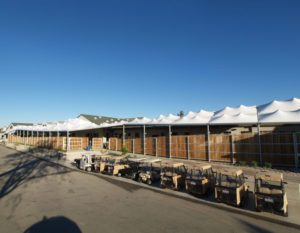 With today's focus on maximizing resources – both on the larger global scale and the individual level – most architects and general contractors are feeling the pressure to deliver innovative solutions that can increase energy efficiency and reduce waste while performing better and costing less.  It can feel downright impossible.  But, as advances in the tensile fabric architecture industry continue to expand, tensile buildings are increasingly becoming a viable option for achieving these goals.
Tensile buildings are ideal for a wide range of projects, including: event spaces; schools and universities; sports arenas and facilities; public parks; transportation centers; business parks; music venues; convention centers; and over walkways or waiting areas.  Here's why.
Superior Spanning Capabilities.
There are many circumstances that require coverage of large expanses with uninterrupted space below, such as convention centers, indoor sports arenas, and event venues.  Tensile buildings make this significantly easier because they are, by their very nature, lightweight.  Instead of support beams, strategically designed frames and cable systems can help you achieve your goals while also keeping costs reasonable.
Faster, More Cost-Effective Installation.
As a full-service specialty contractor, the team at Tension Structures can design, engineer, and build your tensile buildings so they are substantially faster and more cost-effective to install than traditional construction projects.  As semi-permanent to permanent structures, this type of architecture isn't intended to replace temporary event tents.  Instead, they're an excellent alternative to the brick-and-mortar structures that were once the only option.
Access to Natural Light.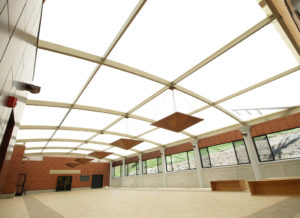 The membranes used in tensile buildings are crafted to support translucency, meaning (depending on the color option you choose) you can enjoy weather protection and reduced solar heat gain without losing that appealing glow of natural light.  Keep in mind that an increasing number of studies are connecting sunlight with a wide range of health and productivity benefits.
Endless Design Options.
While there is a great deal that can be done to create unique aesthetics with traditional architecture, most of those options become incredibly costly.  When designing tensile buildings and structures, it's easy to experiment with style and shape, membrane color, printed graphics or logos, LED lighting, etc.
Simple Maintenance.
Bursting one of the common myths of tensile fabric architecture, today's membrane materials ensure low maintenance.  In some circumstances, tensile buildings can actually outperform traditional architecture – such as with TiO2 Coated PTFE Membrane (the closest you'll get to a self-cleaning material).
Are Ready to Learn More About Tensile Buildings and Structures?
In the Tension Structures Division of Eide Industries, we specialize in design, engineering, manufacturing, and installation of structurally complex and creatively challenging commercial, government, and prototype design projects.  We provide expertise and support for architects, landscape designers, general contractors, and property owners to develop their custom tensile membrane project ideas and construct iconic structures.
Explore the options for your next project.  Contact one of our experts today by calling 800-422-6827.